The Pages of Tech History
A look at the evolution of technology from the pages of Computerworld
In 1964, a young Patrick J. McGovern founded International Data Corporation out of his house in Newton, Mass., a modest start to what would become a global publishing empire.
McGovern's company, eventually renamed International Data Group or IDG, launched its first publication in June 1967, Computerworld. The magazine went on to be the flagship publication of IDG's nearly 300 titles, including PCWorld and Macworld. With its staff of tech reporters and editors, and commitment to high-quality journalism, Computerworld quickly became the go-to source for the latest news and information for technologists, computer scientists, and consumers. In the process, Computerworld has chronicled the history of the computer revolution.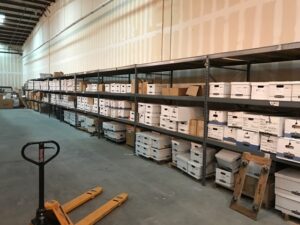 The McGovern Foundation has embarked on a project to preserve and share that history by working closely with IDG and Internet Archive, a non-profit digital library. Three years ago, the Foundation retrieved dozens of boxes of IDG print magazines stored in a Framingham, MA warehouse. Since then, an Internet Archive team housed in the Boston Public Library has been digitally scanning the main print publications of IDG. 
Computerworld is now fully scanned and the issues can be viewed and downloaded as PDFs at Archive.org. As a part of an ongoing curation of this historical research, the Foundation will continue to bring tech history stories inspired by Computerworld. The series is authored by McGovern Foundation intern Kathleen Esfahany, a rising junior at MIT majoring in computation and cognition.

Tech History Stories
June 21, 1967: Computer language COBOL faces fierce competition in race to revolutionize the business world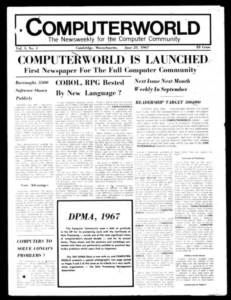 Most young computer scientists have no idea what a line of COBOL looks like, even though there are an estimated 200 billion lines of COBOL in use today, according to some accounts. In the 1960s, COBOL emerged as the first commercial programming language. Since its inception, it has been harshly criticized by the computer science community for its verbose syntax and its lack of important features. Just a few years later, rival business-oriented languages like RPG and ADPAC were making headlines as competitors to COBOL. However, policies instituted by the US Department of Defense ensured that COBOL remained the dominant force in the business world. Most critically, the DoD refused to lease or purchase any computer without a COBOL compiler.
By 1967, a language called ADPAC made the front page of the launch issue of Computerworld for its technical superiority over COBOL. One company interviewed at the time, STAT-TAB, reported that ADPAC had drastically cut programming time and compilation times. A simple technical study was conducted to highlight ADPAC's superiority. The same program took 172 statements and 38 seconds to compile in ADPAC, but 665 statements and over an hour to compile in COBOL. ADPAC was said to have achieved these milestones by eliminating the worst features of COBOL and adding in important missing ones.
College computer science programs haven't taught COBOL to several generations of programmers, but COBOL is still with us today and has recently been in the news. Financial institutions and government services are facing an ever-growing skills gap as the small number of programmers with expertise in COBOL exit the workforce. In fact, delays in the distribution of unemployment benefits and stimulus payments during the COVID-19 pandemic were due to issues in finding programmers to assist in updating COBOL systems. 
–By Kathleen Esfahany

Sept. 13, 1967: America's first digital tax returns filed on magnetic tape
Tax preparation software like TurboTax has infused automation into the otherwise burdensome process of filing a tax return. Users of such software are guided through a series of simple questions while algorithms handle calculations and filling out the appropriate forms to send to the IRS. When the form is ready, users just hit "send" and the process is complete.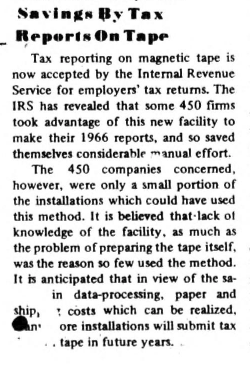 Long before these automated systems were invented, tax returns were a paper-only endeavor. The slow evolution from paper to a digitized system began in 1966 when the IRS began accepting employer tax returns on a data storage medium called magnetic tape. First used for computer data entry in 1951, magnetic tape replaced punch cards and became a primary means of data storage in the 1960s. The tapes consisted of a narrow strip of plastic film coated in magnetizable metals such as ferric oxide.
In 1966, 450 companies collectively filed several million tax records across a few hundred reels of magnetic tape, according to Computerworld magazine and the 1966 IRS Annual Report. Replacing paper filings with magnetic tape generated substantial savings for both taxpayers and the IRS. For companies, filing returns on magnetic tape saved on costs associated with processing forms, paper, and shipping. For the IRS, magnetic tapes eliminated the need to transcribe data from millions of paper documents into punch cards and subsequently magnetic tapes. These benefits led to accurate predictions that more companies would take advantage of digitized filing in subsequent years.
While the vast majority of Americans now file their tax returns electronically, the digital transformation of the tax filing system remains incomplete. Around 15 million taxpayers filed their returns on paper in 2019, contributing to a months-long backlog of millions of pieces of unopened mail at the IRS. Once the mail is eventually opened, the IRS will store the tax return data in one of their data storage media, which include modern magnetic tapes. Magnetic tape technology has improved dramatically since 1966, with storage capabilities increasing from megabytes to terabytes per reel. Many institutions besides the IRS, including Google and Microsoft, also still rely on magnetic tapes for archiving data.

–By Kathleen Esfahany