June 19, 1968: First software patent awarded to Martin Goetz
In the early days of software engineering, innovations in the software realm were considered to be unpatentable. This began to change with the first patent, awarded to an engineer for a data sorting algorithm.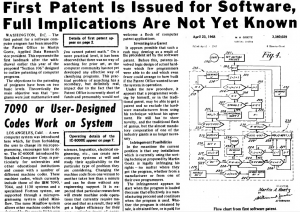 Today, thousands of software patents are filed each month. Back in 1968, software patents were barely a concept, challenged by now-obsolete perceptions both within the computer community and legal community. For decades, the computer community held that software wasn't a separate category from computer hardware. The legal community refused to recognize software as patentable because they considered the programs little more than operationalized mathematics, and math isn't patentable. There were even laws proposed to directly outlaw the patenting of computer programs.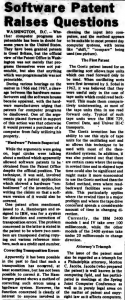 In 1968, a software patent filed by a researcher named Martin Goetz made the front headlines of Computerworld magazine. Goetz was a prominent member of the computer community, working as a Vice President at Applied Data, one of the largest companies of the time. In 1964, he attended a conference on software intellectual property issues and realized that a data sorting algorithm he had developed was patentable. Data sorting was an important issue for the mainframe computers of the day, many of which used magnetic tape for storage. A more efficient data sorting procedure could save substantial amounts of program execution time by reducing the wait time for tape to rewind.
Goetz's patent was granted while many questions about the patentability of software were still hotly debated. The headline of the Computerworld issue, which stated that the "full implications [of the patent] are not yet known," reflected this, and foreshadowed the legal battles that would follow in establishing the legality of software patents. Soon after Goetz's patent, another was filed by two researchers named Charles Prater and James Wei. Their patent was accompanied by a landmark legal case, discussed further in our next story.
–By Kathleen Esfahany