Sept. 17, 1969: School bus route planning optimized by computer program
Using an IBM computer and a vehicle scheduling program, a New Jersey school district optimized their school bus route planning.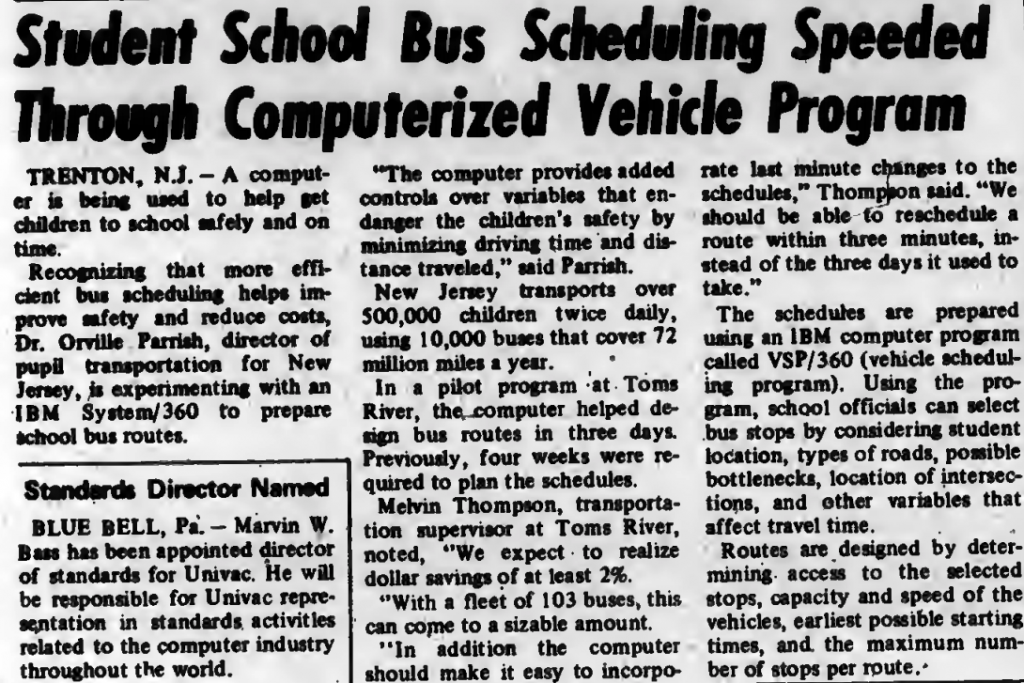 Today, mapping software is ubiquitous. There are billions of searches made daily on mapping software like Google Maps to get instructions for navigating to and from a destination by foot, bike, car, or public transit. There are even apps that monitor real-time traffic to provide alternative optimized routes. Mapping software has made travel more efficient than ever before. An early foray into computer-optimized route planning happened in 1969 in Trenton, New Jersey, when school bus routes were prepared by computers for the first time.
In an interview with Computerworld magazine, the director of pupil transportation in New Jersey stated that the benefits of using a computer for route planning included "minimizing driving time and distance traveled." The computer program was piloted in one of the state's school districts with a fleet of 103 buses. It reduced the time needed to plan the schedules from four weeks to just three days and saved the school district 2% of their usual costs. Moreover, the computer program reduced the time needed for any revisions from three days to just minutes. 
The New Jersey schools used an IBM computer to run the bus scheduling program. To create an optimized bus route, the program took into account variables including student locations, road types, known traffic bottlenecks, and intersections.
–By Kathleen Esfahany