A vision for technology to amplify the very best of humanity
Welcome to the Patrick J. McGovern Foundation.
Our work at the Foundation continues the lifelong work and legacy of our namesake, a tireless visionary and advocate for information technology and neuroscience for good. We embody his trademark optimism and believe that a better world is possible through our shared vision, values, and actions.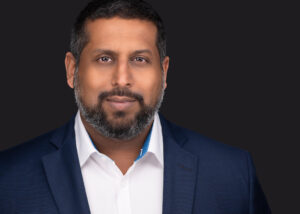 One of the earliest stories about Patrick J. McGovern revolves around his love of reading – a love so deep that he often bicycled one-handed just so he could carry a stack of library books in the other. As he turned this love of knowledge into a publishing company that brought information about technology to people across the globe, his life  had a profound effect on mine. Nearly 50 years later, I often raced to my bookmobile in Champaign, Illinois (as the name suggests, an RV converted into a mobile library) – to get my hands on the latest edition of ComputerWorld or the latest coding "For Dummies" book. These publications lit the fuse of my own passion for technology. It was in that cramped mobile library in the height of summer, magazines spread open on every available surface, where I discovered the extraordinary potential of how human exploration into the digital could transform our world for the better.
Today, I have the great honor to work with the Trustees of the Foundation to give shape to our conviction that artificial intelligence and data can be tremendous forces for public good. We believe that philanthropy has a fundamental role in influencing our technology-enabled future to inspire, protect, and augment human progress. Consequently, we work with academics, activists, technologists, entrepreneurs and creatives to advance new solutions, to explore possibilities, and to envision generational opportunities arising from these emerging areas of exploration.
My vision of our brighter future is one in which technology amplifies the very best of humanity, our creativity, ingenuity, curiosity, our kindness and our generosity. In an increasingly digital-enabled world, data science and artificial intelligence can create economic opportunity, empower civil society to better advocate for people and planet, strengthen our commitment to democratic institutions, and allow us to connect to our deepest humanity together.
I hope the Patrick J McGovern Foundation is a space that fosters big ideas and extraordinary collaborations. We know there is much work to do, and the world needs everyone's participation to bring about this change. We welcome you to join us. As Pat often said, "The best is yet to come!"
With gratitude,
 Vilas S. Dhar

You can follow Vilas on X (formerly Twitter) @vilasdhar and on LinkedIn at www.linkedin.com/in/vilasdhar