Oct. 11, 1967: Computer vision sees early breakthrough with "Electronic Retina" system
Optical character recognition systems were an early milestone in the field of computer vision, a branch of artificial intelligence currently driving significant innovation.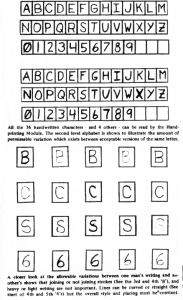 For decades, researchers have attempted to simulate the human visual system in machines, giving rise to a subfield of artificial intelligence called computer vision. At times, limited success and unrealistic expectations led to periods of harsh criticism and cuts in research funding known as "AI winters." Over the past decade, computer vision has seen great success as the combination of increasingly powerful computing systems and massive image datasets has enabled researchers to train computers to perform with high accuracy on a multitude of vision tasks. These achievements have cemented computer vision as a cornerstone of modern innovations such as self-driving vehicles and automated checkout systems.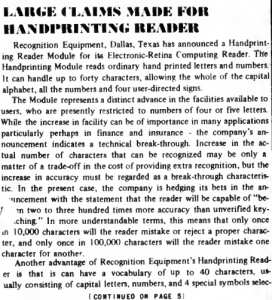 One of the earliest milestones in computer vision research was automating the identification of alphanumeric characters and common symbols, a task termed optical character recognition (OCR). In 1967, the U.S. company Recognition Equipment announced the development of a "Handprinting Reader Module" capable of character recognition and available for purchase with their Electronic Retina Computing Reader device. The module could recognize 40 characters (consisting of the 26 uppercase letters, the 10 numerical digits, and four special characters), surpassing all competitors, which were limited to recognizing only numbers and a few letters. 
The module worked by comparing each character to a set of stored patterns and determining the best match. The Electronic Retina system could process the identified characters into one of several different storage formats, such as a now obsolete data storage medium called punch cards. Advertisements placed by Recognition Equipment in Fortune magazine highlighted the potential benefits of using the Electronic Retina to replace entire departments of keypunch operators responsible for manually typing documents into punch cards. They claimed that airlines, credit card companies, and government institutions using the Electronic Retina had not only saved millions of dollars, but also dramatically reduced errors and data processing time. The character recognition module was priced at $150,000 and the Electronic Retina started at $750,000 — several million in today's dollars.
Today, optical character recognition technology is commonplace and widely available for free through various websites and apps. 
–By Kathleen Esfahany