Jan. 30, 1984: IRS streamlines operations with computer vision and digital storage
The IRS installed new technology to automate the processing of tax forms and improve data retrieval.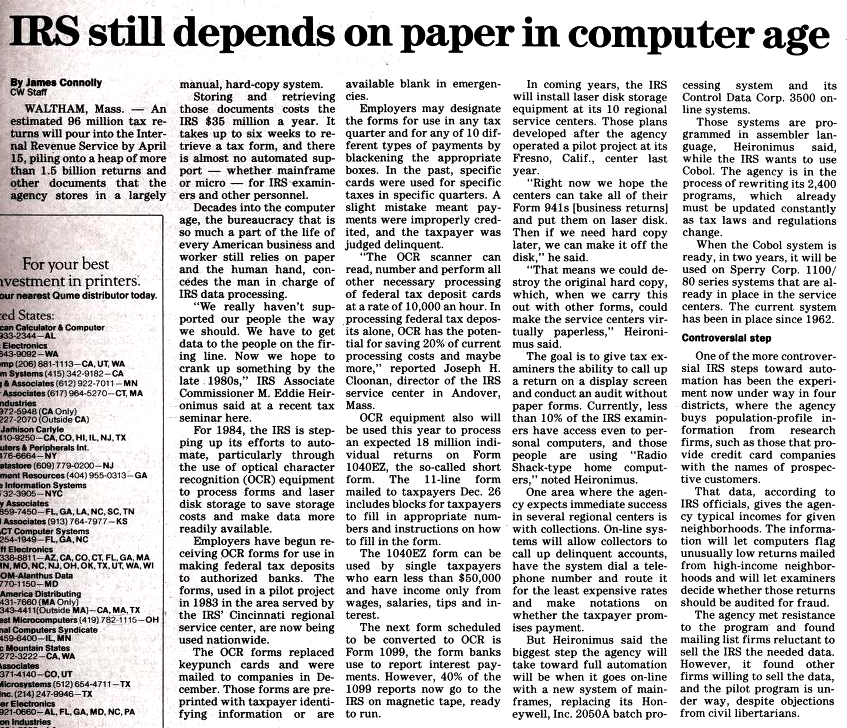 In January 1984, an article in Computerworld magazine highlighted the ways the IRS was transforming its "largely manual, hard-copy system" to include automation and digital storage. In particular, the IRS was beginning to use optical character recognition tools to automate form processing and laser disk storage to reduce storage costs and improve data retrieval. 
After a successful pilot project completed the previous year, the IRS invested in optical character recognition (OCR) equipment to be used nationwide. OCR, an early form of artificial intelligence used to recognize handwritten or typed characters, allowed the IRS to automatically read and process select paper tax forms "at a rate of 10,000 an hour," according to the article. At the time, the OCR system was capable of processing employer forms and 1040-EZ forms, totaling over 18 million submissions. In the following years, the IRS planned to expand their OCR system to process more types of tax forms.
The IRS also planned to invest in laser disk storage and a new mainframe computer. Together, these improvements would help further automate form processing, reduce storage costs, and enable tax examiners to "conduct an audit without paper forms" according to the article. The IRS Associate Commissioner told Computerworld that the new laser disk storage equipment would move the service centers towards a "virtually paperless" future. Today, although most of the IRS' collection activity is automated and the majority of Americans submit their tax forms online, the IRS still struggles with a massive backlog of paper returns.
The IRS has a long history of trying to move away from paper forms. In 1967, Computerworld published a front-page article about the first tax returns to be submitted on magnetic tape, which facilitated much easier processing than forms submitted on paper. Tax forms filed on magnetic tape were mentioned in the 1984 Computerworld article as well, which noted that 40% of 1099 forms, commonly used by banks to report interest payments, were submitted to the IRS on magnetic tape. The IRS took a similar approach to installing magnetic tape equipment in 1967 and OCR equipment in 1984, running business-focused pilot experiments a year prior to a nationwide expansion of the new systems.
–By Kathleen Esfahany