May 3, 1993: Computer industry adopts green policies
In response to concerns about landfill waste from discarded computers and government incentives to be more energy efficient, companies adopted new environmentally friendly standards in the 1990s.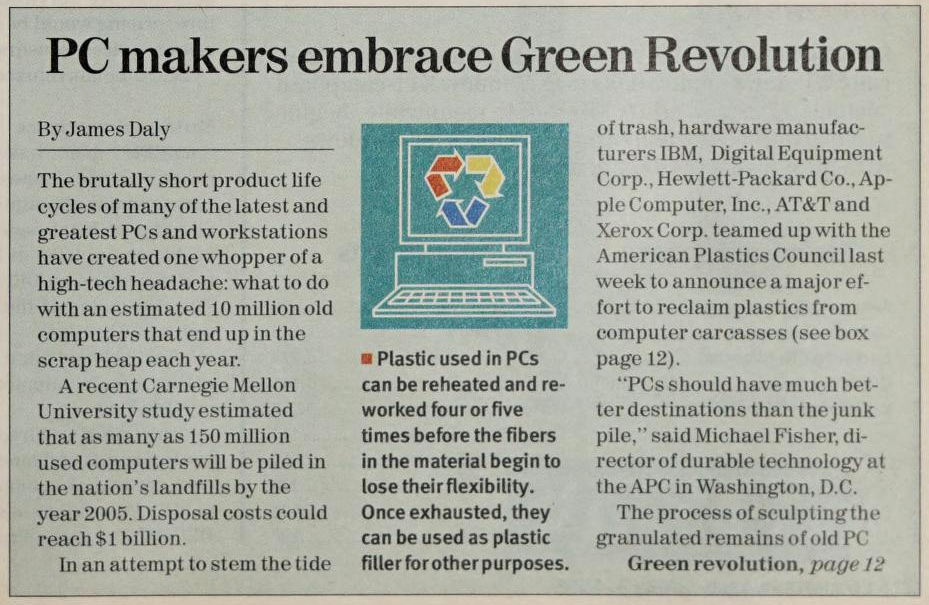 In the 1990s, the popularity of personal computers (PCs) exploded as they became more affordable and powerful than ever before. However, as millions of computers were purchased, millions were also thrown away, resulting in millions of dollars of disposal costs and rapidly accumulating waste in landfills. A 1993 article in Computerworld magazine describes how a variety of computer hardware companies and government officials took action in an attempt to reduce what we refer to today as electronic waste.
One focus was in reducing plastic waste from computers by increasing the usage of recycled plastics. A trade association called the American Plastics Council teamed up with several companies, including IBM, Xerox, and Canon, to develop new plastics recycling protocols. IBM agreed to make computer parts from a blend of recycled and new plastic. Xerox established an internal plastics recycling team and incorporated more recycled content into their products, and Canon committed to donating a dollar to environmental preservation groups for each returned printer cartridge. The American Plastics Council aspired to have all computer hardware companies use a single plastic composition to enable streamlined recycling, but competition between the companies made this goal unrealistic. Instead, the council turned their focus to promoting design practices that would make personal computers "more cost-effective to pull apart and reuse than toss in the dumpster."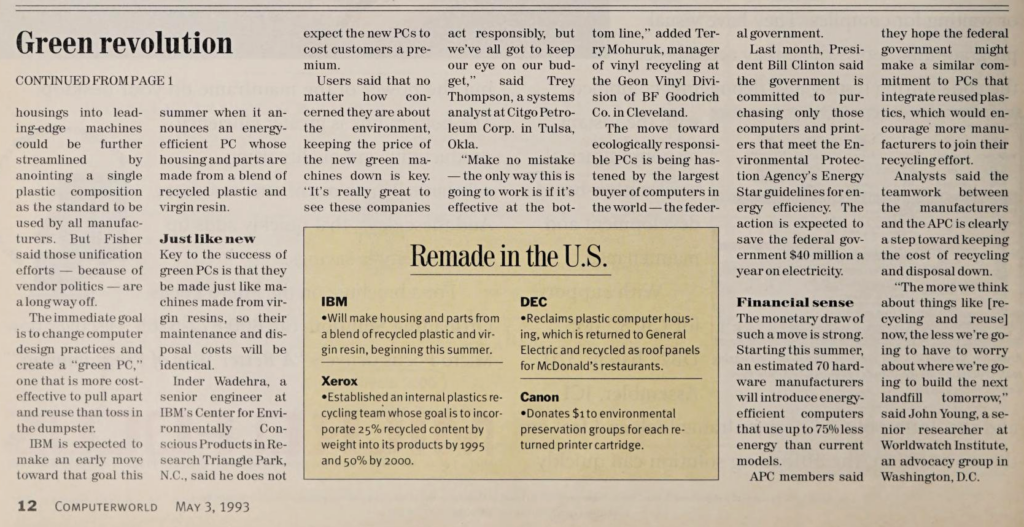 Energy efficiency was another concern for computer hardware companies. The federal government — at the time, the largest buyer of computers in the world — committed to purchasing only computers and printers that met energy efficiency guidelines set out by the Environmental Protection Agency, saving the government $40 million a year on electricity. Incentivized by the new federal guidelines, the computer hardware industry exploded with new energy-efficient computers. According to the article, "an estimated 70 hardware manufacturers" introduced new computers "that use up to 75% less energy than current models."
— by Kathleen Esfahany