Jan. 29, 1969: North Carolina installs computer system to track legislative bills
Computerizing the bill-tracking process in the North Carolina legislature saved time and enabled new connections with the media and academic researchers.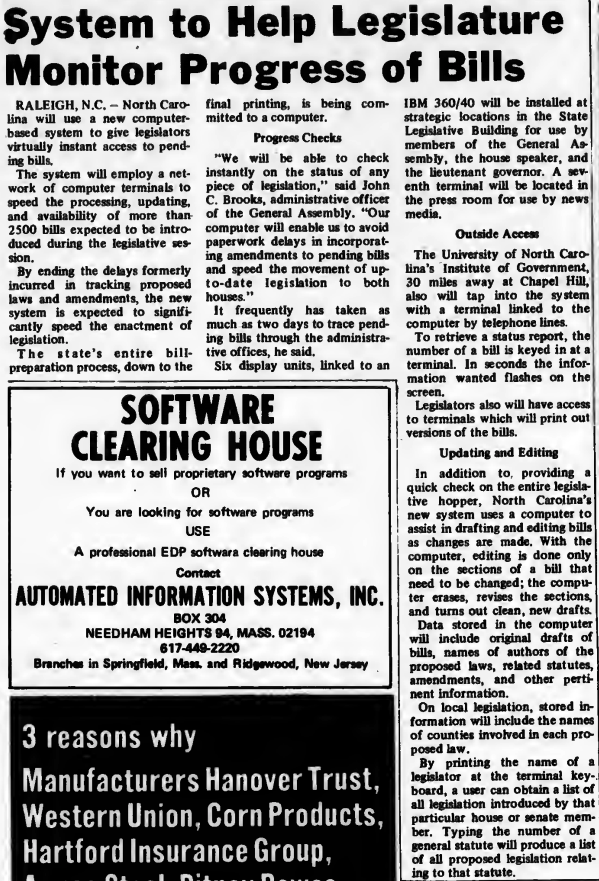 In 1969, the efficiency of the North Carolina legislature was transformed by a new computer-based system for tracking bills. The new system virtually eliminated the time needed to trace the progress of a pending bill, turning a process that previously could take as long as two days into an instant check on a computer. Over the following decades, the North Carolina legislature implemented significant updates to this system to develop the modern web-based bill tracking system it uses today. North Carolina's story of digital transformation is far from unique – across the United States, modern legislatures at the county, state, and federal level all support similar web-based bill tracking. Anyone can peruse these websites to view bills, amendments made to the bill, and the outcomes of the legislative bodies voting on the bill.
According to an article published in Computerworld magazine, North Carolina's 1969 system consisted of eight display terminals linked to an IBM 360/40 computer. Six of the units were to be used by the members of the legislature, while the seventh was for the press and the eighth was installed at the University of North Carolina at Chapel Hill's Institute of Government. 
The system had a multitude of useful functions to increase efficiency and make information available to the public. By entering the number assigned to a bill, a user would receive a status report on that bill. There were also search functions allowing users to get a list of bills introduced by a particular legislative member or bills related to a particular law. Moreover, the system had editing capabilities that could speed up the incorporation of amendments to a bill and the printing of final copies. All together, these functions radically improved the speed at which bills were prepared, updated, and moved through the legislature.
North Carolina's system served as an early model of how computers could increase transparency, giving the public greater insight to the legislative process. By allocating a terminal to the press and another to a public university, the efficiency of the new bill tracking system could also benefit the public through news reporting and academic research. 
–By Kathleen Esfahany