April 24, 1989: Museums automate collections management with custom data entry systems
Custom data entry systems increased the efficiency of museum cataloging, reducing years of documentation into just months.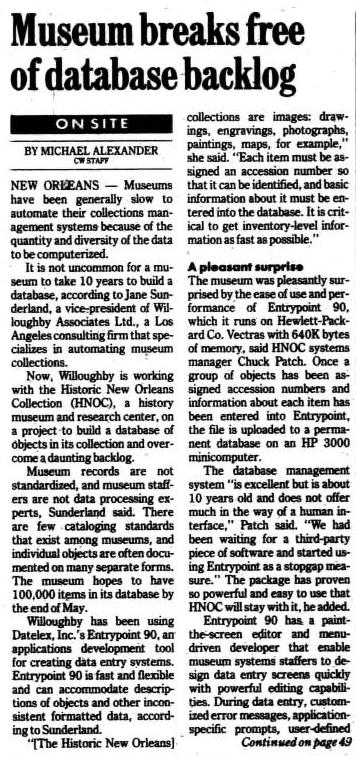 Modern museums have rich online collections for people to browse, in addition to physical exhibits. Behind the scenes, museums also use internal computer systems for managing their collections. Back in the late 80s, museums were struggling to build collections management systems due to museum data being larger and more diverse than most other databases of the time. Since objects in a museum collection may differ in the kinds of information associated with each object, museums required custom data storage systems. A 1989 article in Computerworld magazine noted that it could take years for a museum to build a suitable database.
Computerworld highlighted efforts made by Willoughby Associates, a Los Angeles museum consulting firm, to help quickly build a database for the Historic New Orleans Collection, a combined history museum and research center. Willoughby Associates took advantage of a software tool called the Entrypoint 90 to build a custom data entry system for the museum. The museum staff were surprised by how easy it was for them to use the Entrypoint 90 system to enter object data and upload it to a database on an HP 3000 minicomputer. The Entrypoint system allowed for duplication of records to make entering repetitive data more efficient. It also handled inconsistent data formats well, which was necessary due to the diverse types of objects catalogued, including photographs, paintings, maps, microfilms, and books.
The Willoughby team noted that while the Entrypoint 90 system had advanced menu and editing capabilities, they hoped to see systems with better interfaces developed soon. However, the Entrypoint proved to still make the museum much more efficient, with an expected timeline of just over two months to catalog over 200,000 items.
–By Kathleen Esfahany