Feb. 20, 1995: Massachusetts builds 'motor voter' system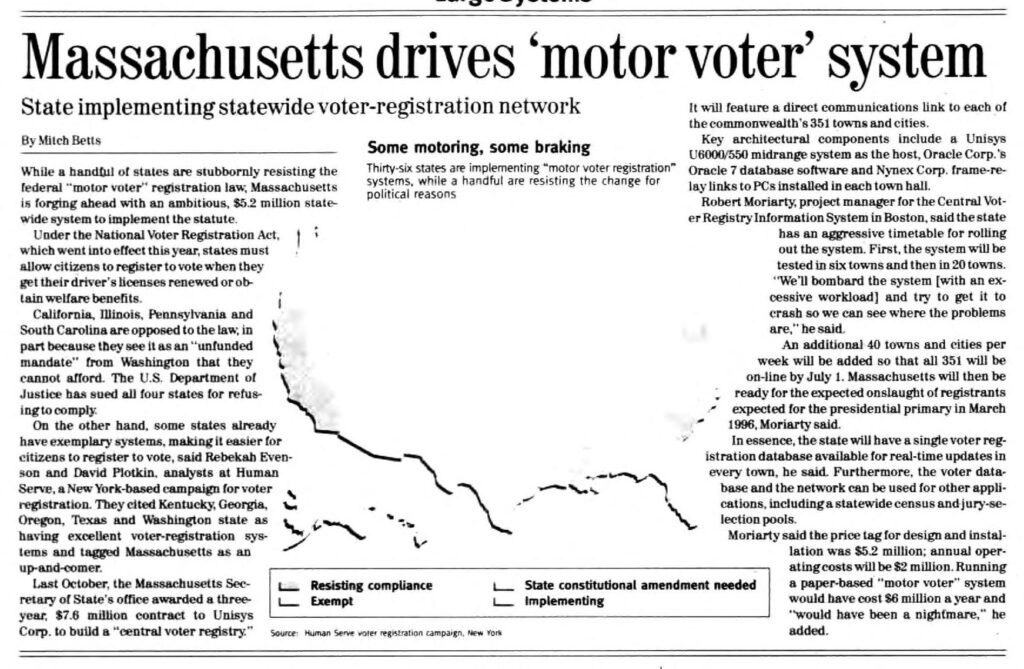 To comply with the 1993 National Voter Registration Act, Massachusetts built a centralized voter registration network.
In 1993, Congress enacted the National Voter Registration Act, often called the "Motor Voter Act," in an effort to make registering to vote and maintaining voter registration easier. The Motor Voter Act was called as such because it required states to provide people with the opportunity to apply to register to vote in federal elections at the same time that they apply for or renew a driver's license. At the time, the act was controversial, with many states failing to comply with the law. In 1995, Computerworld magazine featured a story about Massachusetts' efforts to build their "motor voter" system.
To build a compliant system, Massachusetts signed a $7.6 million contract with Unisys. The goal was a "central voter registry" featuring "a direct communications link to each of the commonwealth's 351 towns and cities." The project manager described the fast-paced and rigorous plan for installing the system. After first testing the system in a few towns at a time, the system would be purposefully bombarded with activity to try to spot bugs. The entire system was planned on being installed by July 1, 1995.
The "motor voter" system proved to be both multifunctional and cost-effective. The computer network built for the system and database acquired could be used for census and jury duty applications. The annual running cost of the computer-based system was $4 million less than a paper voter system.
–by Kathleen Esfahany