Jan. 24, 1973: Computer optimizations reduce waste in furniture manufacturing
An optical scanner combined with a minicomputer enabled furniture companies to cut more usable wood from each plank.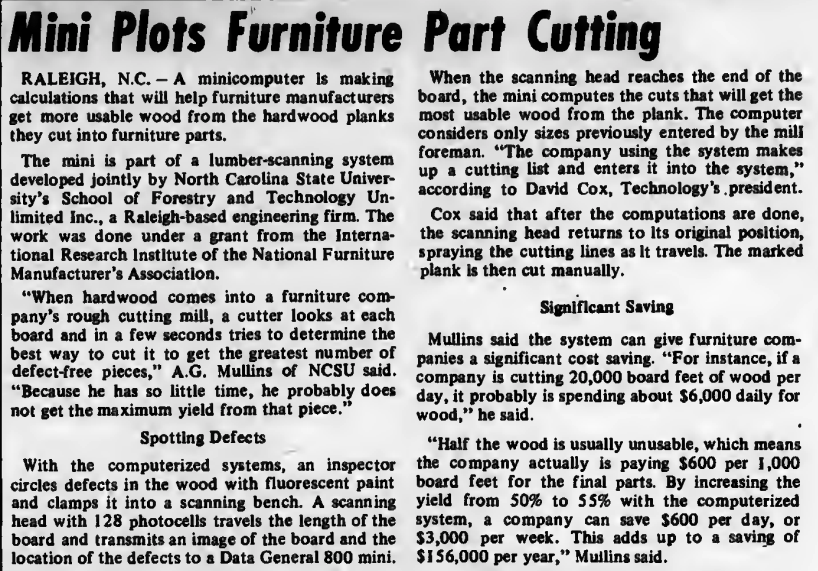 Many technological innovations have aimed to reduce the consumption of nonrenewable resources and the creation of nonrecyclable waste. Since the beginning of human civilization, human activity has caused the global tree count to fall by over 46%. The problem has continued to grow in modern times, with only 5 billion trees planted as approximately 15 billion trees are cut down each year. In 1973, Computerworld magazine highlighted how computers could reduce the amount of lumber waste in the furniture making process.
Ordinarily, a furniture cutter would look at a wooden board and need to quickly decide the best way to cut it. The furniture parts had to be cut such that sections with defects were not included. A researcher from the North Carolina State University's School of Forestry explained that "because [the cutter] has so little time, he probably does not get the maximum yield from that piece" of wood. 
To solve this issue, a research effort funded by the National Furniture Manufacturer's Association developed a system that combined a scanner and a minicomputer to maximize the usable wood extracted from each plank. The new system required an inspector to circle any defects in the wood with fluorescent paint, after which a scanning head would transmit an image of the wood to a minicomputer. The minicomputer referenced a cutting list to compute an optimized series of cuts. The scanning head sprayed the cutting lines onto the plank, which was then cut manually. The system had huge savings potentials for furniture companies.
–By Kathleen Esfahany