Sept. 17, 1969: Business recovers quickly after hurricane thanks to magnetic tape storage
Magnetic tape patterns replaced paper patterns at a Mississippi factory, allowing for a quick recovery after Hurricane Camille.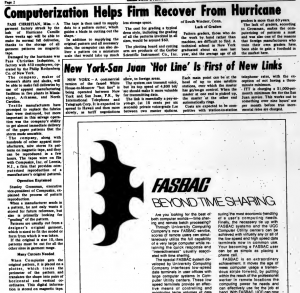 In August 1969, Hurricane Camille made landfall in Mississippi at record-breaking wind speeds, taking over 200 lives and causing billions of dollars of destruction. From the tremendous chaos and fallout from the hurricane emerged a story of resilience, made possible through the digital transformation of the garment manufacturing industry. A 450-employee garment factory called Pass Christian Industries was able to meet their fall delivery goals using garment patterns stored on magnetic tape, despite enduring damage from the hurricane.
According to an article in Computerworld magazine, hundreds of apparel manufacturers, such as Pass Christian Industries, had adopted magnetic tape as a data storage medium for their garment patterns. These patterns were printed onto paper for use in the factories. The use of magnetic tape copies of these patterns allowed Pass Christian Industries to get "almost immediate delivery" of their destroyed paper patterns, keeping production on schedule.
The magnetic tape copies used by Pass Christian Industries were created and stored by Compusize, a firm based in New Jersey. In an interview with Computerworld magazine, Compusize executive Stanley Gossman explained how patterns are processed to become stored on magnetic tape. First, a plotting board was used to trace the perimeter of the pattern. The shape was then translated into a series of coordinates which are stored on magnetic tape. Finally, a pattern cutter used the data from the magnetic tape to automatically cut out the shape from paper.
Compusize also offered automated pattern grading, a process to transform a pattern provided at one size into a range of other sizes. Grossman noted that [it had become difficult to find workers that did pattern grading] pattern graders had become difficult to find, with very few being trained each year and the average age of working graders surpassing 60 years old. This fueled increased use and development of automated systems like the one at Compusize.
–By Kathleen Esfahany