April 2, 1969: Michigan schools pioneer computerized attendance tracking
An early form of computerized attendance tracking facilitated early interventions and improved outcomes for at-risk students.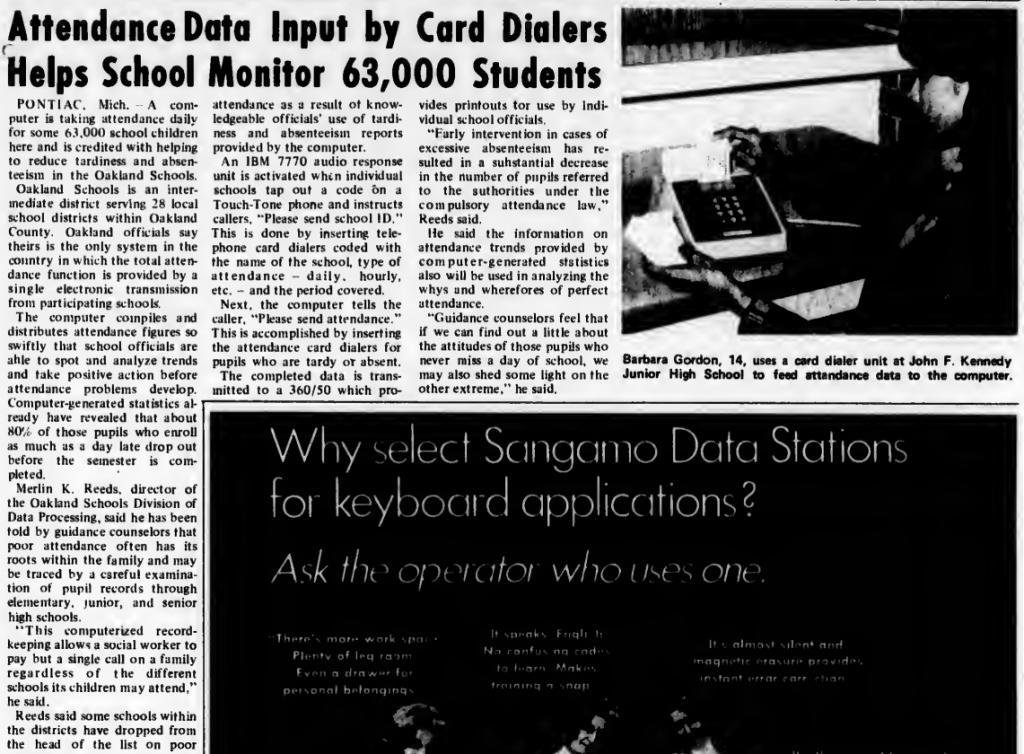 In 1969, the 63,000 students of the Oakland Schools system became among the first in the nation to have their attendance tracked with a computerized system. Computerworld magazine interviewed the officials from Oakland Schools about their newly computerized system, highlighting an early prototype of the type of community-level data collection that has become commonplace today.
The attendance system was simple. Each school within the 28 school districts of Oakland County, Michigan were equipped with an IBM 7770, a type of device known as an Audio Distribution System. Through this device, schools transmitted information about tardy or absent students to an IBM 360/50 computer located in a centralized Oakland Schools office. Information such as the name of the school and the names of students who were tardy or absent were coded onto phone card dialers.
Oakland officials noted that the system helped them observe trends in students' tardiness and absenteeism more quickly, allowing them to have more effective interventions. Merlin K. Reeds, the director of the Oakland Schools Division of Data Processing, stated in an interview with Computerworld magazine that the earlier interventions resulted in a "substantial decrease in the number of pupils referred to the authorities under the compulsory attendance law." Across the Oakland school system, the heightened efficiency of the attendance system resulted in many of the schools with the worst attendance rates improving. 
Guidance counselors also praised the system for facilitating analysis of student trends. For example, the counselors could examine long-term trends in a student's attendance as they progress through elementary, junior, and senior high school. The system also facilitated analysis of the data, providing officials with figures such as statistics on dropout rates of students who enrolled in school late.
–By Kathleen Esfahany