Jan. 15, 1969: Automated manufacturing transforms how post office box keys are made
A simple key production pipeline was automated, similar to how keys are replicated today.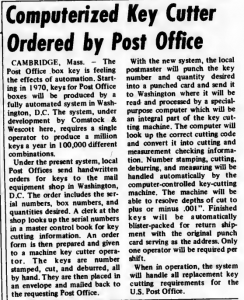 In 1969, the U.S. Postal Service announced that they planned to adopt a fully automated key production system. According to an article in Computerworld magazine, a single operator using the new system would be capable of producing a million keys in 100,000 unique combinations each year, completely revolutionizing a process that previously required each key to be cut by hand. Today, there are an estimated 21 million post office boxes in the United States, each with a key to unlock it.
The existing system required several operations to be done by hand, including looking up serial numbers, cutting the keys, and mailing them back to particular post offices. The new automated system reduced the process to having just one task done by hand: entering the type of key and quantity desired into a punched card. From there, a specialized computer would read the punched card, look up the serial number for the key, and pass information about the key to a computer-controlled key cutting machine. Once the key was cut, it would be automatically blister packed for shipping, with the original punched card serving as the mailing address.
The post office used the automated system to replace all existing key cutting facilities, serving as an early example of [cumbersome, time-consuming processes could be improved] how automation could replace human operators, especially in any case where computers could more efficiently store, search, or process information than a human.
–By Kathleen Esfahany