The Legacy of Patrick J. McGovern
A visionary with a lifelong passion for people, technology, and neuroscience
Patrick J. McGovern's life and legacy are deeply intertwined with the evolution of information technology and his fascination with neuroscience. His belief in technology's potential to democratize information, help advance neuroscience, and improve the human condition lives on through this Foundation.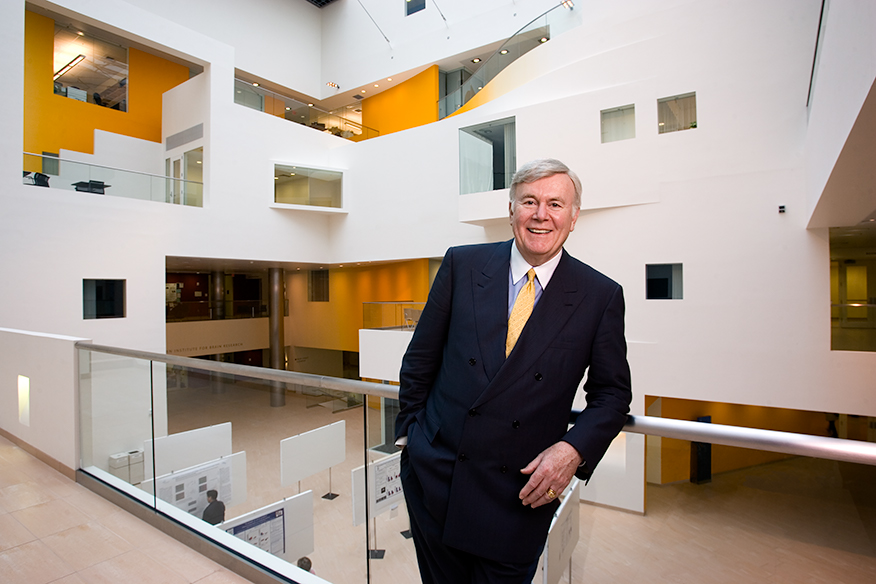 Fascination with Learning
When Patrick J. McGovern Jr. was growing up in Philadelphia in the 1940s and early 1950s, he had already embarked on the quest for knowledge which would define his life. "He was often late for school because he stayed up so late reading," says his older sister, Laurette Verbinski. "He was interested in everything. He brought home stacks and stacks of books from the library. He'd be riding on his bicycle, with his basket of books and more under his arm. He would have to steer with one hand."
One of the volumes that Pat checked out of the Free Library of Philadelphia was Giant Brains, or Machines That Think by a prescient scientist named Edmund Callis Berkeley. "It was about the concept that these new computers were going to amplify the power of the human brain," he remembered decades later. That was heady stuff for a teenager who was in love with learning. He credited it with sparking the fascination with computers and the brain that would lead to his three legacies: IDG, the McGovern Institute for Brain Research, and the Patrick J. McGovern Foundation.
In high school, exhilarated by the visions of artificial intelligence predicted in Giant Brains, Pat built a machine that could play tic-tac-toe—so flawlessly, he discovered, that people didn't like competing against his gadget until he rewired it to occasionally bungle a move. That project helped him earn a scholarship to MIT, where he majored in biophysics and served as sports editor of the school paper. After graduating in 1959, his interests in science and journalism led to an assistant editor job at the first magazine about the burgeoning computer field, Computers and Automation.
Remarkably, it was published by Ed Berkeley, the author of Giant Brains. At Computers and Automation, Pat rose to the position of associate publisher. Based on his dealings with executives at computer companies, he identified a hunger for hard facts about the mainframe market, which were exceedingly difficult to come by at the time. In 1964, he turned that opportunity into a research firm which he called International Data Corporation with the "International" part of the name being largely aspirational at first. Three years later, the same instinct to fulfill an emerging need for information led him to launch Computerworld, the first newsweekly for the IT industry.
Building a Global Publishing Empire
IDC and Computerworld became the foundation of a company that, beginning in 1978, was known as International Data Group. It grew quickly, and as computers touched more and more aspects of business and life, it seized every opportunity to extend its influence. InfoWorld (1978), for instance, was a weekly publication which got its start by chronicling the rise of pioneering microcomputers such as the Apple II. The glossy monthly PC World (1983) was devoted to the IBM PC and its ecosystem. Macworld (1984), the magazine announced alongside the Mac itself, spawned Macworld Expo, the dominant conference for Apple's customers.
Additional publications such as Network World, CIO, and GamePro catered to specific communities of users. And in the 1990's, when technical literacy became a prerequisite for dealing with everyday living, IDG's Dummies line of how-to manuals became a phenomenon unto itself.
IDG thrived as a business, but for Pat, the whole point of the company was about something far loftier than the bottom line. "He saw IDG as helping the IT revolution, and he saw the IT revolution as a good thing," says Pat Kenealy, managing director of IDG Ventures USA and a 30-year IDG veteran. That revolution was hardly limited to the U.S., and as it spread around the globe, so did IDG, beginning with an IDC office in the U.K. (1969) and editions of Computerworld in Japan (1972) and Germany (1974). Rather than trying to precisely replicate its U.S. successes, the company encouraged divisions and affiliates throughout the world to serve local markets by tweaking existing brands or creating new ones from scratch. Eventually, IDG reached 90 countries with 300 print publications, 450 websites, 750 events, and 500 research programs.
Growing Beyond Boundaries
The most extraordinary international expansion for IDG began in 1978, when Pat made a brief stop in Beijing on his way from Japan to Russia, before the U.S. normalized relations with China. "I dreamed that if I was ever going to fulfill our mission of being able to help…hundreds of millions of people with information, I had better get involved in China as early as possible," he recalled.
"As early as possible" turned out to be just two years later, when IDG became one of the first western companies to enter China, establishing a joint venture with the government to produce a local version of Computerworld. The media business that followed became so important a cultural bridge that in later years, western publishers found that the most efficient way to launch Chinese editions of magazines such as Esquire and National Geographic was to do it in partnership with IDG.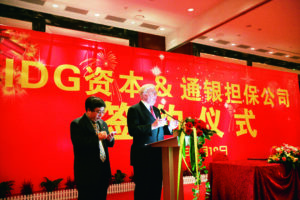 Starting in 1993, the company also invested directly in Chinese startups as part of its venture-capital group, an increasingly significant component of its business in other countries as well.
IDG may have been headquartered in downtown Boston, but Pat's responsibilities as chairman were never about sitting in an office. "Where the business goes, I go," he wrote. "Or as my colleagues say, where I go, the business goes." In 2000, he estimated that he flew 250,000 miles a year, meeting people, exploring markets, helping to get new businesses off the ground, and conducting the legendary holiday trips that saw him visit thousands of IDG staffers at their desks. "He took 130 trips to China," marvels his son, Patrick McGovern III. "That's six months of his life in the air traveling around."
He was only able to spend so much time in the field because he ran IDG in an uncommonly decentralized fashion, pushing down decision-making authority to the operating units responsible for specific products. As he asked rhetorically in 1988, "How can I tell a manager in Scandinavia whether there's a need for a CAD/CAM magazine there?"
"Pat didn't believe in the corporation in a traditional sense, as a big bureaucracy building centralized services," says Eric Hippeau, who joined IDG when it acquired his Brazilian IT publication in the 1970s and relocated to the U.S. in the 1980s to become publisher of InfoWorld. "He believed that it was there as a support organization, not a controlling organization. He was consistently true to that."
For Pat, decentralization was a crucial way of assuring that IDG could move as swiftly as the industry it served. "The real bosses should be in the marketplace," he explained in 2000.
The McGovern Institute for Brain Research
Five decades later, there was still an enormous amount left to learn about the brain-and the more we understand, the better our chances of making inroads against autism, depression, Alzheimer's, and other disorders. Pat and his wife Lore Harp McGovern were in a position to help. In 2000, they established the McGovern Institute for Brain Research at MIT, pledging a history-making $350 million to its research in neuroscience, molecular biology, genetics, and related fields. Today, its team of distinguished scientists collaborates with IDG/McGovern Institutes at three Chinese universities.
"The McGovern Institute for Brain Research was something Pat wanted for at least 20 years before he founded it," says Walter Boyd, one of Computerworld's earliest employees as well as IDG's former president and its current chairman. "It was another one of his long-range plans." As with IDG, his approach was to bring talented people together, provide resources, and then serve as a cheerleader rather than a micromanager. "I can't tell you how many times I'd be in my office and then I'd hear Pat's voice," recalls Bob Desimone, director of the McGovern Institute for Brain Research at MIT since 2004. "He happened to be in the neighborhood and would drop in. We've been incredibly successful due to his efforts. That's really his legacy here."
From his earliest years as an entrepreneur, Pat McGovern had, as his daughter Elizabeth McGovern puts it, "the fire in his belly to change the world." He did. And as the Patrick J. McGovern Foundation fulfills its mission-improving the lives of individuals and our global community through neuroscience research and information technology-many other people will have the opportunity to change the world in the years to come, in ways that would have delighted and inspired him.
–By Harry McCracken, former editor of PCWorld and author of "Man of Many Worlds" and "I was Pat McGovern's Elf".