July 9, 1969: ACM hosts inaugural "Computer Music and Art Festival"
For the first time, computer-generated music and art was featured at one of the largest computer conferences in the world.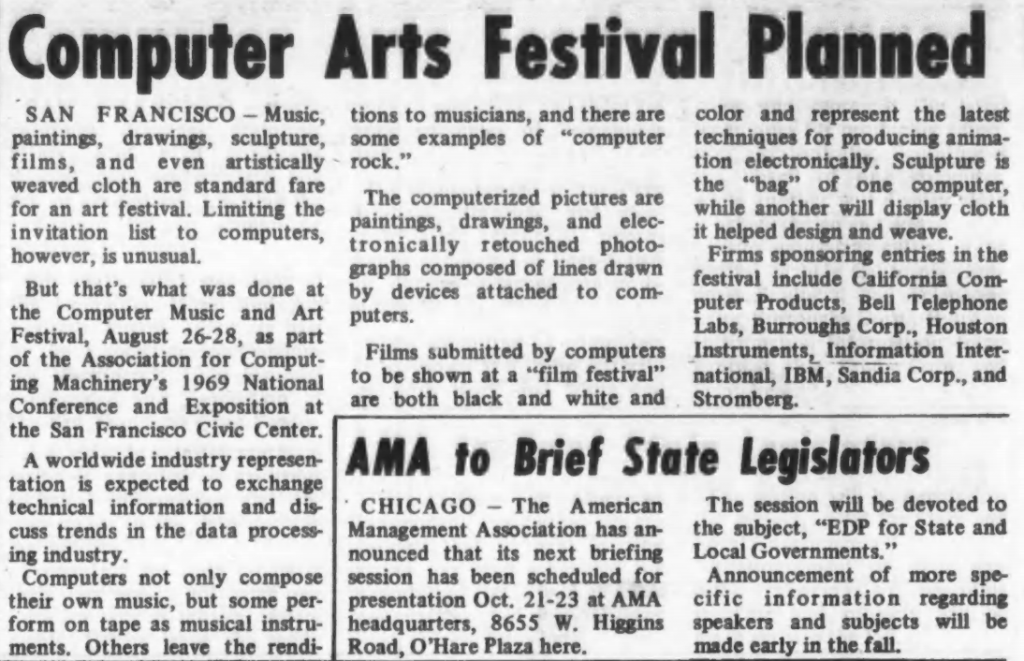 From producing record-breaking albums to generating landscapes in video games, computers are integral to creating music and art in modern times. The infusion of computers into art and music began in the 1950s, largely led by engineers and scientists with access to computers through university research laboratories. The practice accelerated and expanded alongside the growth of digital technology to underlie billions of dollars of creative products today.
In 1969, the Association for Computing Machinery (ACM) hosted the Computer Music and Art Festival as part of their larger yearly conference, inviting any creative submissions produced by computers. According to an article in Computerworld magazine, the festival included music composed or produced by computers, drawings and paintings created with devices attached to computers, photos retouched by computers, animated films produced by computers, and sculptures and fabrics produced by computers. Although the submissions were produced with very preliminary techniques, it was clear that computers had started to be recognized as creative tools in a variety of disciplines.
Over time, the use of computers in creative work expanded from research laboratories to the general public. In their creative endeavors, scientists and artists made impactful discoveries that progressed the field of computer science and the world's digital transformation. Today, there are a multitude of free apps and websites for computer-aided music and art production. The frontier of the field is now focused on researching how AI may be able to augment human creativity or innovate on its own. 
–By Kathleen Esfahany