AI4All building a community of diverse leaders to influence AI in positive direction
BOSTON- Artificial intelligence is everywhere – in offices, homes, hospitals, and online stores — just ask your phone, and Siri or Alexa will agree. But as the artificial intelligence industry booms, millions of teenagers aren't learning the skills they need to understand AI, shape its future, or thrive in the digital economy. One recent estimate found that fewer than 45 percent of high schools teach basic computer science classes.
The nonprofit organization AI4ALL is changing that by, as its website explains, opening "doors to artificial intelligence for emerging talent through education and mentorship."
"We are addressing a diversity crisis in artificial intelligence," Tess Posner, AI4ALL's CEO says. "We believe that having diverse leaders across a variety of disciplines will help influence AI in a positive direction."
That crisis is a drought. Last year, a research report from New York University points to a "diversity disaster" in the artificial intelligence workforce. Noting that "women comprise 15% of AI research staff at Facebook and just 10% at Google," the report also adds:
"The diversity problem is not just about women. It's about gender, race, and most fundamentally, about power. It affects how AI companies work, what products get built, who they are designed to serve, and who benefits from their development."
One way to end the drought: Invite diverse students into the world of AI.
That's what happened to Caleb Williams-Anderson, when he was a sophomore at Bergen County Technical High School in New Jersey. His guidance counselor sent out an email last February about AI4ALL's Summer Program for students who belong to groups that have been historically excluded from the AI workforce, including women, people of color, and members of the LGBTQIA community.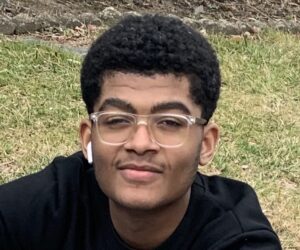 "Hearing that the program was about coding sparked my interest because in my middle school they had coding day, but we were only doing basic things, and I always wanted to know more," Williams-Anderson says.
So he applied, and in the middle of the pandemic, he spent three weeks in July of this year at AI4ALL's virtual AI camp, out of nearby Princeton University. The result: he learned a lot more than coding.
 Mornings were spent listening to video lectures about the coding language Python and about how scientists teach computers to think. Next, teaching assistants who were Princeton students discussed the videos and answered questions from Williams-Anderson and the other program participants. 
In the afternoons, students worked on projects using the AI skills they were learning.
"I was part of a genomics coding project," Williams-Anderson says. "We used data from the 1000 Genomes Project," a public catalogue of human genetic data, "to teach the computer how to link variations in people's genetic code to the superpopulation and population they belong to. Our hope was to train the computer to see similarities among people, so that if we gave the computer a random person's genetic code, the computer would be able to identify where the person was from."
At the end of the day, students got to hear from AI professionals who explained how they used artificial intelligence in their work. "We covered all the major concepts that Python programmers need to know and that was really beneficial for me. And because of the guest lectures, I got the experience of academia. I got a feel for college life."
What sounds like three grueling weeks of swallowing big, fat science textbooks was, according to Williams-Anderson, a lot of fun.
It was also inspiring.
"The program changed everything for me," he said. "Growing up in a less affluent neighborhood and going to a regular public school, I knew I was smart, but I didn't see myself as the kind of person who would go to this kind of program. But once I went through it, I saw that I could do these spectacular things."
Now a high school junior, Williams-Anderson reads scholarly papers about new technological inventions.  "I read these articles and I understand the process that led up to the innovation."
"The other great thing about the course is that it continues, not just in a figurative way in your heart, but through the connections you make and through the summer program's alumni network."
Williams-Anderson says there is one change he'd make to the Summer Program: He'd make it longer than three weeks. 
What's next for him?  He and his friends are starting a coding program for middle school kids, kind of an AI4ALL Jr. approach.
Thanks to a grant from the Patrick J. McGovern Foundation, AI4ALL has been able to expand the Summer Program from six university settings around the country in 2018 to 11 in 2019 and to 16, 14 of which ran programs in 2020.
AI4ALL also runs Open Learning, a platform with free, adaptable AI curriculum, teaching guides, and other resources that allows high school teachers of all subjects to bring AI education into their classrooms. And the organization has a new  College Pathways program to "interest and increase persistence in AI-related careers for undergraduate students who represent new voices in AI." 
"When we get more young people involved and engaged in shaping technology," Posner, the CEO, says, "we'll see a more interesting, diverse set of problems being addressed using AI technology.
"We're already seeing that. Our students have come up with ideas we couldn't have imagined: from helping kids with autism communicate, to fighting wildfires, to addressing water quality issues in their communities. It's really about providing the tools and then getting out of the way to let them bring their passions and talent to contribute to AI in ways that will surpass our imaginations."
While the tech world loves individual superstars, AI4ALL wants to build a community of diverse leaders.
"We need leadership in a variety of areas as AI begins to get more deeply enmeshed in areas of our daily lives that range from healthcare, to the criminal justice system, to financial systems, to entertainment," Posner adds. "Big things happen when people come together, and the challenges facing the world today need all of us to contribute."
"We also take a broad view of AI leadership. We believe it needs to encompass not just the technological sphere, but the societal and political spheres as well. By training young people to connect their AI knowledge with their individual passions and experiences, we are nurturing leaders who will bring creativity, innovation, responsibility, and awareness of societal impacts to everything they do."