Most vulnerable people in Boston's homeless shelters moved to safety in rapid response effort
BOSTON – In the wintertime, Pine Street Inn's four homeless shelters in Boston fill up fast. When they run out of beds, staff line the lobby with cots so individuals can get out of the cold and have a safe, warm place to lay their head at night. In late February and early March as COVID-19 was unfolding, there was no way to do social distancing at the shelters. And the individuals at greatest risk had nowhere else to go.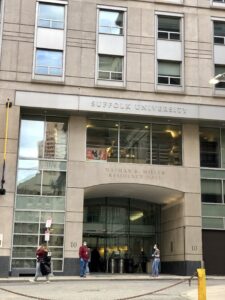 Pine Street Inn Executive Director Lyndia Downie knew they needed to get their most vulnerable people to a place that minimized chances of getting sick. "We didn't have a lot of data but we knew crowded situations increased chances of people getting the virus and getting really sick," she said. "We were worried about older people with underlying health issues. Some have asthma, diabetes, heart conditions."
Two hundred of the most vulnerable people from Pine Street Inn's homeless shelters in Boston have been moved to Suffolk University's Nathan R. Miller Residence Hall, where they can safely maintain social distancing during the COVID-19 pandemic.
With each day's news on COVID-19's rapid, often invisible spread and its devastating effect on individuals with underlying health conditions, the urgency grew. The solution emerged quickly through a collaboration between Pine Street Inn, the Mayor of Boston's Office, Suffolk University and the Patrick J. McGovern Foundation.
The Mayor's Office had begun reaching out to universities that were sending students home for the semester. Suffolk University offered the city a large dormitory building, the Nathan R. Miller Residence Hall, a 19-story high rise downtown near Boston Common. The dorm met the need perfectly. The site is easily accessible and spacious enough to safely house up to 200 people in one place. This was critical — staffing multiple sites would have been difficult, Downie said.
Next, the Patrick J. McGovern Foundation provided Pine Street Inn with a $250,000 grant to operationalize the plan. The dollars were put to work immediately.
"We staffed up and got vendors and within a couple of days of getting the site we had the first people in there," Downie said. "This allowed us to save lives because we were able to move so quickly on it."
Today, Miller Hall is running full. Frontline staff, Downie said, has been nothing short of heroic. The Boston Public Health Commission is helping to manage the facility. Staff from Healthcare for the Homeless are on site screening for COVID-19. Everyone is given a toiletry bag. Meals are provided daily.
It is unclear how long Pine Street Inn will be using the Suffolk dorms, Downie said. They want to keep it open as long as possible, and they are also thinking about what is possible in a post-COVID future. "What if we really did have enough dignified and permanent space for people? Even just a room and a bathroom, a place where they can shut the door," Downie said. "How do you get to scale on this? I hope we are all thinking about what this means and not just revert back to the status quo."
For now, the men and women staying in the dorm, many of them older, have settled in and are reading, taking walks and enjoying some privacy and peace, Downie said.
"From sleeping literally face to face, to having a private room is just phenomenal for people," Downie said. "It feels so respectful and lovely to be able to offer it to people knowing the folks we targeted had no other options. There is a lot of, 'Boy, was I lucky. I have this room and I'm going to enjoy it.'"
Pine Street Inn is working around the clock to provide services for Boston's homeless people during the pandemic. Outreach vans are still going out nightly to serve street populations and demand in shelters remains steady. If you would like to help, they welcome gift cards for food or drug stores, and donations for operational support. Visit their website to learn about ways to help during this crisis.